IDC cable end (12 products)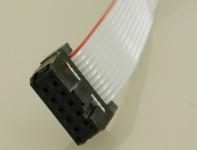 IDC connector
Insulation Displacement Connector, short IDC
only 0,1" (2,54mm) IDC connector stuffed Plug-of-Nails™ Products are called IDC in the Tag-Connect product terms.
All kind of Tag-Connect Plug-of-Nails™ members (6pin-TC2030. 10pin-TC2050 und 14pin-TC2070) are avaiable with IDC plugs.
This cables could be directly connected to a variety of swd and jtag programmers and debug adapters for microcontroller, micro processors as well field programmable devices.
This makes it comfortable to adapt your own requirements like providing Power to yout test- or program target.
The robust Tag-Connect Plug-of-Nail™ connectors with pogo pins are fitted to the opposite cable end and allowing easy and reliable contact.
For series production, you could switch between Tag-Connect products and needle contacted test and production frames without additional costs for connectors or even PCB space.