Xilinx Download Cable (1 products)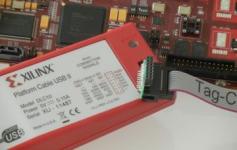 Xilinx Platform Cable USB II
Xilinx FPGA and CPLD device firmware could be programmed via JTAG and dbugged via Xilinx Chipscope.
The Xilinx Platform Cable USB Programmer includes an 14-pin Connector with 2*7 Contacts with 2 mm pin-pitch.
The TAG-CONNECT 10pin cable Familie TC2050-IDC could be contacted the the JTAG interface via the TC2050-Xilinx adapter pcb.